Strata and property maintenance entails a massive scale of general gardening services. We at Garden-R have expert landscape gardeners as part of our crew. They can take care of your property through lawn and garden care, hedging, irrigation and other projects.
Garden-R works with strata properties in the Adelaide. With us, you are guaranteed to have a great-looking and healthy garden that residents and families can enjoy for a long time.
Garden Care Services
Garden-R delivers high-quality gardening services across many homes and residential properties. We are experts in the reshaping and pruning of trees and shrubs. Reshaping does not only enable trees to grow healthier, but also turns them into topiaries that add an artistic feature and depth to your outdoor space.
Aside from pruning, maintaining hedges can be especially complex when it is within multi-residential estates and commercial properties. These have massive lot areas that require a systematic approach to gardening upkeep. We work with property owners and managers to achieve great results for all properties, regardless of the size of the project at hand.
Garden-R also offers fertilizing services to boost the growth of your foliage. We assess soil quality and incorporate flowering plants, shrubs and trees that will thrive based on your location.
Our professional crew takes on landscaping projects for homes and properties within Adelaide, where precision work gives clients colourful and great-looking trees and hedges. Garden hedges and topiaries all add to the homes' privacy and stylistic details.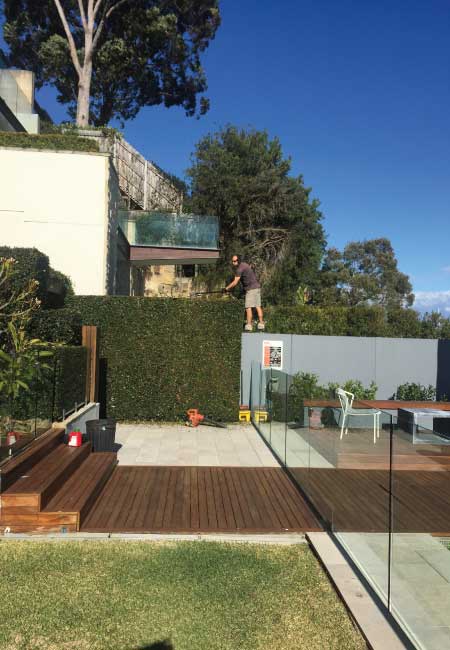 Lawn Maintenance
Our strata garden maintenance crew offers routine lawn mowing and lawn care services for every type of property. From weeding and fertilizing to leveling, these tasks are all taken care of by our expert crew.
If your land needs a regular lawn mowing program, we can do it for you. A brief consultation with property owners and strata managers can determine the type of service and schedule preferred for the outdoor space. Afterwards, our skilled gardeners get to work on these spaces.
Mowing is a task that requires a lot of dedication and effort. With the help of Garden-R, your lawn will be trimmed and green whatever the season. Along with mowing, we also do weeding and fertilizing services to keep the precious grass protected against pests and other diseases.
Need a professional hand to deal with patchy, balding lawn? Garden-R provides top dressing and leveling projects for lawns that are in need of such services. Your lawn grass will grow green and tight with our custom lawn care programs.
Irrigation Services
A proper watering system for your garden is so important because it gives plants and trees the necessary nutrients and moisture that they need to grow well. Garden-R can be your trusted partner for routine inspections and repair of irrigation devices that are used in your garden.
We help maintain irrigation systems for residences and commercial properties in Adelaide. With our assistance, your water usage will be more efficient. At the same time, we can help if there are repairs for sprinkler heads and other garden tools.
Why Choose Garden-R?
Our strata garden maintenance crew has years of experience maintaining large-scale and private garden properties. We have qualified crew members and access to all the latest equipment to help create the ideal garden space for you, no matter what size or task the land entails.
What's more, Garden-R provides a full range of services. You don't have to contact separate firms for various tasks; we handle everything that your garden needs.
We work closely with strata developers and managers so that we can be sure that the goals and needs of the clients are met. Start partnering with Garden-R now and make your garden truly spectacular.